How to Make Mini Floral Bouquets from a Bucket of Blooms
Fresh floral bouquets add a touch of beauty everywhere they go. Even small jars of blooms can make an event more lovely or brighten someone's day. If you love the beauty that only fresh flowers can bring and are seeking an economical way to make small floral bouquets a bucket of blooms may be the perfect option. If you think you lack creativity, don't be intimidated! This step-by-step tutorial will demonstrate how to turn our bucket of blooms into ten mini mason jar bouquets.
The flowers in a bucket of blooms will vary by season, but will always include feature flowers, accent flowers, and foliage for filler. In this bucket, the sunflowers and zinnias are the feature flowers. Spikes of stock are another feature bloom that also provides height. White lace flower is an accent flower that provides bulk to the bouquet yet is light and airy. Basil is the primary foliage to instantly add bulk and provide a perfect backdrop to the beautifully colored blooms. Finally, grasses add light and airy wisps for a finishing touch.
Begin by gathering pint-sized mason jars filled with water, and a pair of floral snips. I recommend using regular-mouth jars as opposed to wide-mouth to keep your blooms in a tighter bouquet.
First, choose the largest feature flower from your bucket so you are sure to distribute them evenly throughout your jars. In this case, I chose the sunflowers. I first clipped the stems to about 12″ in length and placed them in the jars. There were enough for each jar to have at least 3 blooms.
Then add your primary foliage filler, again distributing it evenly among your jars.
Next, add the other focal blooms. In this case, it was zinnias and again, I cut the stems to about 12″ and spread out the larger and smaller blooms evenly throughout the jars.
At this point, there were 4-5 blooms per jar and a couple of foliage stems. Because the stems of the blooms are long the arrangement looks leggy and pitiful. It lacks fullness and you might wonder how you can stretch a bucket of blooms to ten arrangements.
The key to taking a leggy arrangement to a small but full bouquet is to gather the stems in your hand. Be sure your foliage is lifted so it surrounds the blooms, and arrange the blooms so that some are a little bit higher than others. You can instantly see the potential in this cute bouquet.
While still holding your mini bouquet in your hand, notice that some stems are longer at the bottom. Cut the stems so they are the same length as the shortest stem in your bunch.
Voila! See how much fuller your arrangement looks? If the stems still seem a little leggy, simply lift them out of the jar again and cut a little more length off the stems, no more than 1/2″ at a time so you don't accidentally go too short.

Also, see that leaf in the water? Be sure to double-check your jars and remove any foliage that ends up below the waterline.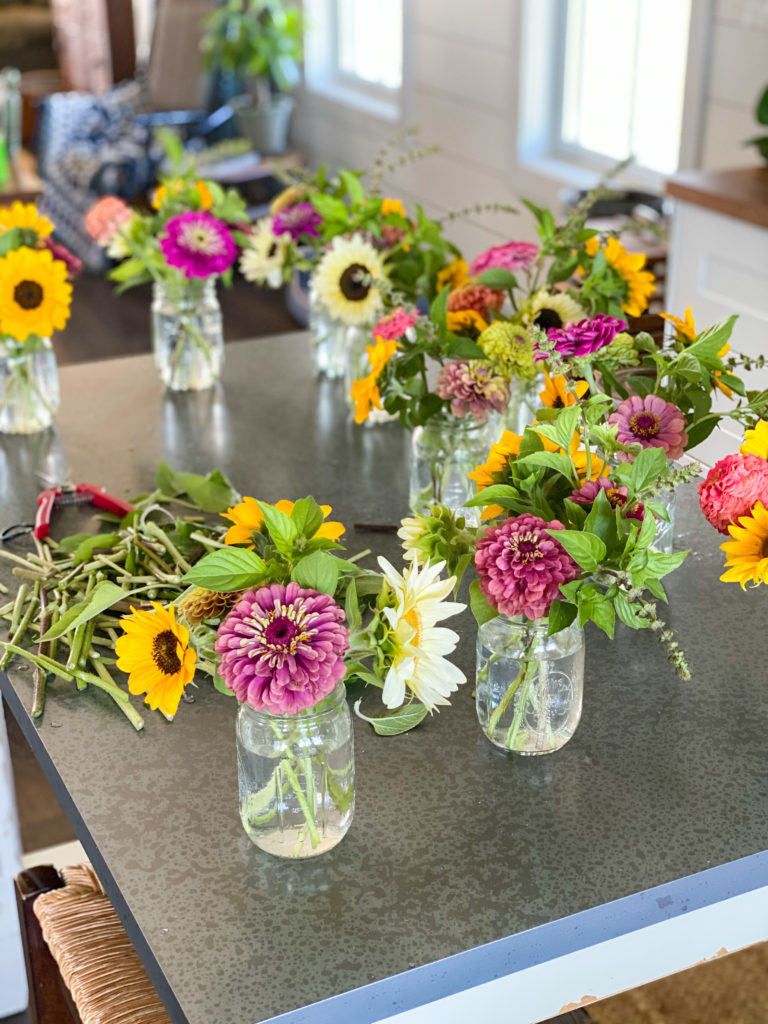 Take the same steps of gathering the stems in your hand, arranging them into a mini bouquet, and cutting the bottoms of the stems. Soon you'll see your ten mini arrangements coming together.
Our arrangements already look pretty cute, but we're not finished yet. We still have stock, which are spiked blooms, our white dill which is an airy filler, and our grasses.
First I added the white dill to give the bouquets instant fullness. Since we have already cut our primary blooms down to the size we like, simply cut the white dill stems down a bit and add them to the jars. If it's too long, cut it down about 1/2″ at a time until it hovers amid the other blooms.
Then add your spiked flower. Since this is a spike it is supposed to stick up higher than the other blooms so be careful not to cut the stem too short. You'll add this single stem to the center of each arrangement. I didn't have quite enough of these stems for every jar but even the ones without the spike still looked darling.
Finally, add the grasses. Like the spiked blooms, the grasses will stick up higher than the other blooms, with the top of them being a little bit higher than the top of the spike. Two or three per jar gives the arrangements a light and airy feel.
Clean up your mess, and stand back and survey your handiwork. Aren't they the cutest mini bouquets?
Think of the possibilities! With 10 mini mason jar bouquets, you have enough arrangements for:
What could you decorate or who could you delight with 10 mini bouquets?